Innovation killer: old incoming mail process
In this article, we go into more detail about the path of standard business processes and explain how modernizing incoming mail can contribute to far-reaching, positive changes in the entire process.
This results in the following advantages:
Lower processing costs
Faster throughput times
Less complexity
The illusion of the magical starting document in a process
The starting condition for many document-centred business processes, such as incoming invoices, contracts, or personnel documents, is often represented relatively identically.
"Incoming business document"

Depending on the process, the starting document can be an invoice, a contract or general correspondence. In an ideal world, the document type gets determined in advance, and there is an incoming mail process routing it into the right process.
But more than not, this previous step, the classification, is often forgotten or, at best, outsourced to an independent incoming mail process.
Document classification, often manual work.
This central incoming mail process, which is used to classify documents, often still takes place manually. An employee opens the mail, looks at the paper, and determines what type of document it is based on his experience and training to then place it in the right mailbox. Certain documents get scanned, but certain others still go manually, on paper, to the different case handlers in the company.

Often only the physical mail is handled by these incoming mail processes. Information and documents that enter the process in other ways, such as by e-mail or via web portals, are often not processed by the same standardized incoming mail process. Instead, these documents usually go directly into the process and often continue to be processed manually by a case handler. For example, in the incoming invoice process, there is typically an e-mail address to which vendor invoices can be sent (e.g. accounting@CompanyZZ.com), so far so good. But the processing of these e-mails is often anything but automated. Frequently an employee combs through the email inbox detaches the attached PDFs and enters them manually into the process.

In the worst case – and I have really seen this implemented like this – the attached PDF is printed out, is forward internally to the incoming mail process and is scanned there just to run through the "normal" process. (Often you will find such procedures at the same companies that have "Think before you print this E-Mail" in their signatures…)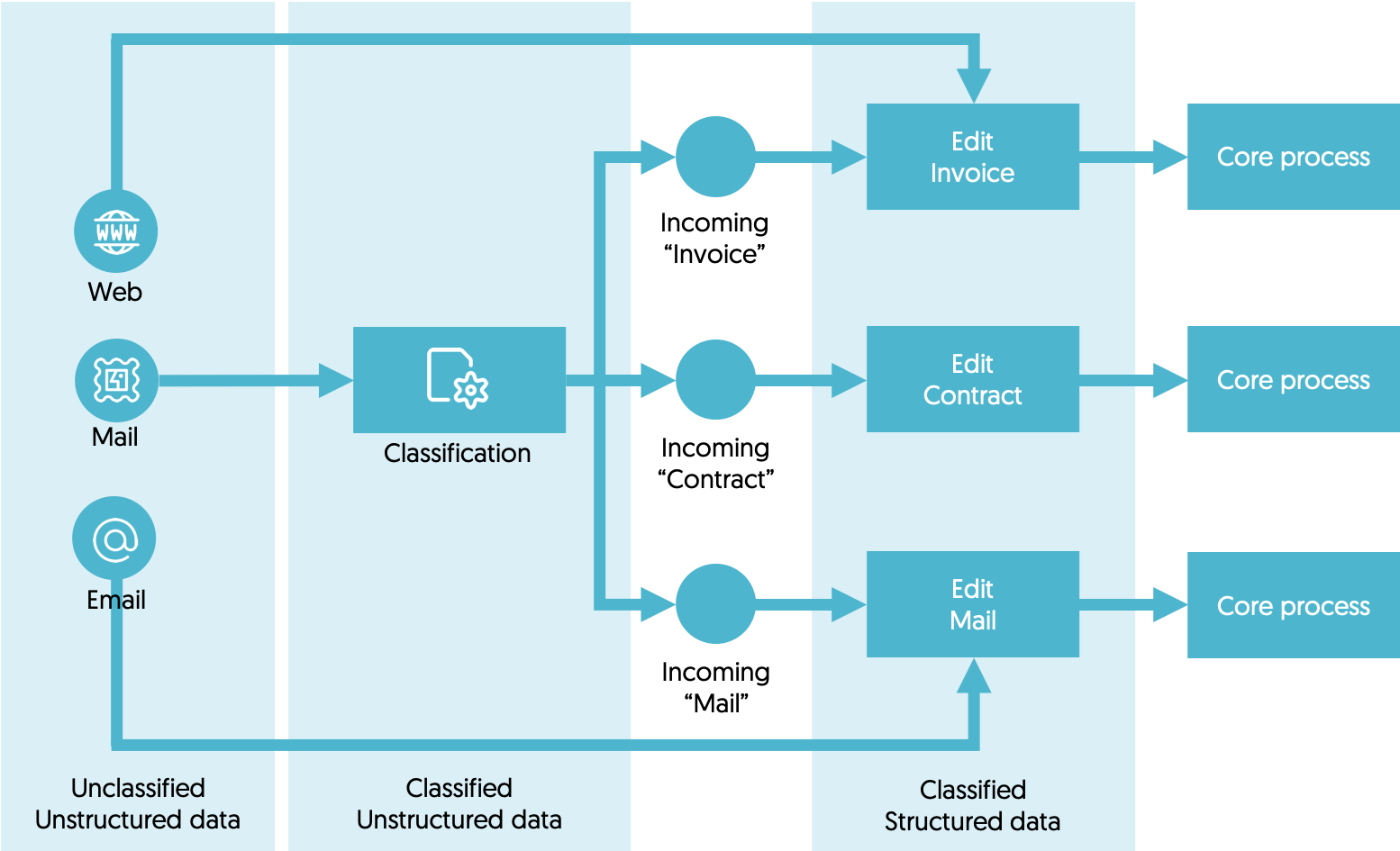 But back to our actual business process. We assume that the document has been successfully classified and is now in the appropriate process. First of all, it is analyzed here by a department or an employee which types the most critical data from the document into the core process tool. Often this step is regarded as an annoying and simple "data entry" job. This data can be, for example, the supplier, invoice date and invoice amount on an invoice, the contracting parties and signature date on a contract or the creator, date and subject on a correspondence.

This first step, the entering of relevant information from the document, hinders further processing in the entire process and leads to longer process cycle times.

But the manual data entry does not stop there. Most of the times within the process, additional data is also added piece by piece and slows down the process with each manual interaction.
"No paper in our process" – digital but by no means modern.
The procedure for document-supported processes, even if they already take place entirely digitally in a workflow system, is nevertheless strongly reminiscent of the traditional way documents are processed on paper.

Documents are classified manually, data is typed in manually and everything is passed on manually to the next person.

Worse still, the digitalization of business documents often turns simple tasks on paper, such as quickly reviewing a contract or ticking off individual items on an invoice, into a tedious and annoying task on screen.

If all critical data from the contract was reliably available, it would no longer be necessary to leaf through it, if all position data had already been stored digitally in the workflow or ERP system from an invoice, an automatic order check could take place, and most important of all, nobody would have to look at the invoice any more.
Upstream, central processing, less manual effort and faster processes.
All these problems can be solved by a central, upstream and modern document processing platform. Paper documents only need to be opened and scanned; no manual classification required. The unsorted documents, at most pages separated, can be scanned. A machine automatically classifies the documents and knows which metadata has to be extracted by the type of document so that downstream business processes can start quickly, smoothly and with high quality.
This digital processing also greatly simplifies work preparation for manual scanning activities, allowing employees to concentrate on more complex tasks and to move less paper back and forth.
The same applies to documents received by e-mail or made available on web portals. The documents can be automatically detached from the email or automatically downloaded and sent to the central platform. In this way, they get processed the same way as scanned paper documents.
This central, uniform processing removes complexity from the process and allows you to process all incoming documents using the same set of rules.
In addition to faster classification, the fully automatic extraction of the most critical metadata is a significant advantage. As soon as you know the class of a document, i.e. the document type, you also know which metadata is required to accelerate the downstream business process.
Using the incoming invoice process as an example, this can already be the automatic recognition of the supplier, the order reference or the invoice amount, whereby rules such as the forwarding of documents to specific departments or employees or the introduction of additional verification steps when release amounts are exceeded can be achieved. By the automatic recognition of position data in interaction with the order reference, a comparison against the existing order is for example, possible, which can lead again to a dark processing, without any human interaction.
The same applies, for example, to contract processes in which the system can recognize the contracting parties, the signing date or even the structure in advance, which simplifies viewing it by an employee and enables automatic and easy archiving in the document management system.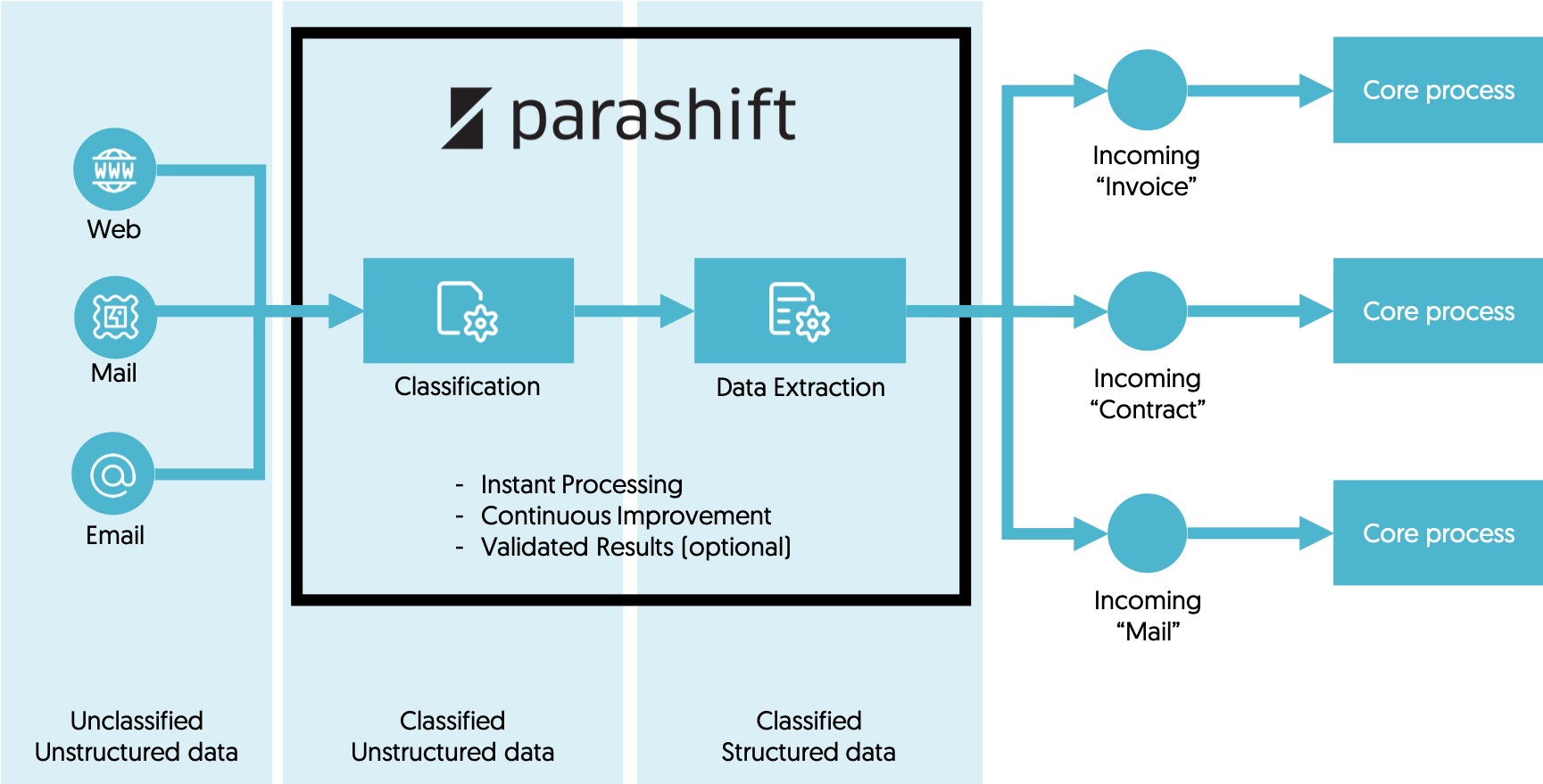 As you can see, rethinking and digitizing the central incoming mail process not only has advantages in document distribution but can also sustainably improve and streamline your business processes and save costs. Your end customers will thank you for the faster processing times and possibilities for Customer Self Service.
Who wouldn't want to be able to create a photo with an app quickly, submit it directly to your business partners for processing and receive initial feedback within a few seconds, an initial assessment after a few minutes and direct feedback on the handling or solution of the case by the end of the working day? This is only possible through the use of advanced, fast and innovative technologies.
If you are interested and want to learn more about the modern way to process documents you are welcome to contact me via the following button so that we can discuss your problems, use cases and wishes in detail.