Parashift OCR software

for text recognition in all documents
Capture data from unstructured & structured documents without configuring rules or templates. Use the world's most accurate and versatile AI OCR software.
Cover hundreds of use cases with a single cloud online OCR API
Integrate continuous learning data from your application
Scale and customize the Cloud AI OCR API to meet your needs
Sign up for a demo and your personal test account!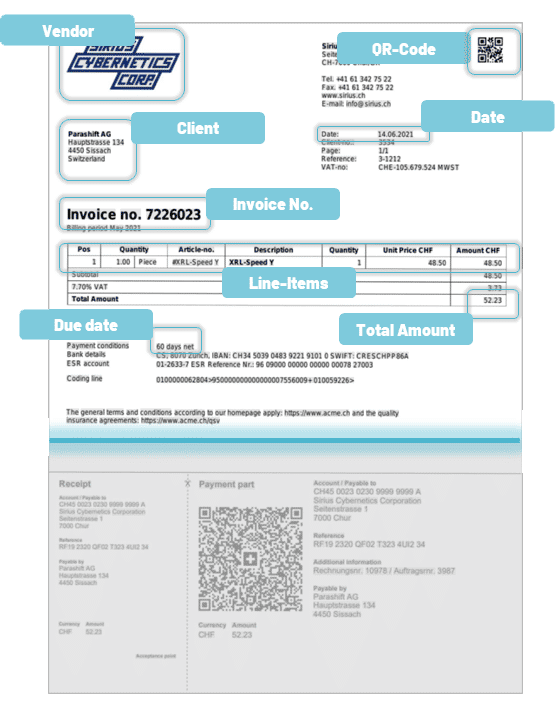 Next generation AI based OCR API for 400+ use cases
Excellent

for

Invoice

AI

OCR

–

but

not

limited

to

them.
Invoices OCR AI
Read Line-Items, due dates, payment conditions and many other fields
Purchase orders
Read purchase order data such as article numbers, amounts, unit of measure
Identity cards
Read identity cards using AI OCR to streamline online onboarding processes.
Bank statements
Extract line positions, bank account numbers, valutas and balances
Letters
Read and classify letters from clients, suppliers and more using AI OCR
Forms
Process any kind of form in your company using Parashift platform
Use 400+ other standard...
Use more than 400 standard document types ready to use.
...or create your own
Create your own specific doctype through the intuitive no-code interface
The first cloud AI OCR software API that

continuously learns

for text recognition online
Highest precision for completely unknown documents and OCR PDF
Continually improves through the transactions of all customers
More training data generates ever better and new use cases

Best online OCR AI API for invoices...

and over 400 other

document types
Integrate OCR text recognition of document data and classification of documents where you need it via easy-to-integrate, powerful OCR software. The API payload includes:
Complete OCR dump including token coordinates
Prediction candidates including confidence levels
Alternative prediction candidates
Document metadata such as language and quality
You can create new, individual document types and use the data from the OCR software immediately.
Operated and run in a secure Cloud environment.
Great for hundreds of use-cases
No-Code & No-Expert Configuration
Conifgure Use-Cases yourself through a great UI
No need to create a template for each vendor
Continuous Document Swarm Learning®
15x shorter setup time, 50% better accuracy
Use

Artificial Intelligence

for document OCR text recognition
Up to 98% accuracy per field
Compared to 30% with legacy OCR software, thanks to AI.
Process all your documents through a single online OCR API.
High flexibility in details
Configure the fields you want to capture with the cloud OCR API yourself.
Classify between different document types using AI API.
Human in the Loop Options
Based on confidence values, document that need validation are sent to HITL.
Delete documents without loosing the AI training data.
Clients & Partners about Parashift

Analysts such as Quadrant, Everest and Gartner publish on Parashift.

Parashift unlocks the value of documents by automating repetitive data entry, enabling organizations to make data-driven decisions faster.
What is the

future

of OCR?
Traditional OCR (Optical Character Recognition) is a technology designed to convert different types of documents, such as scanned paper documents, PDF files, or images captured by a digital camera, into editable and searchable data. It primarily focuses on recognizing and converting printed or written text characters. However, its performance rapidly degrades when dealing with complex layouts, cursive handwriting, or low-quality scans.
On the other hand, new AI-based Intelligent Document Processing (IDP) solutions like Parashift go way beyond simple character recognition. It leverages advanced machine learning algorithms to understand the context, structure, and semantics of the content. IDP can identify and extract specific information from complex documents, differentiate between various document types, and handle nuances in language and presentation. This makes AI-based IDP more robust and versatile in processing a broader range of document complexities and variations.
Get to know Parashift OCR AI

and get your personal

trial version.
Best for medium and large global enterprises. 14-day trial account and discovery call.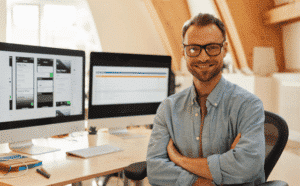 Your questions, answered.
Trusted by great international customers and partners.