Swiss QR invoices: OCR and data extraction with Parashift
Not long to wait now. On 30 June, the QR invoice will replace the two existing Swiss payment slips in red and orange. An era ends and a new one begins. The new Swiss standard contains a barcode with the most relevant payment information, which enables recipients to automate various processes in their accounts payable (AP) department. As a result, whether you are a company with an accounting department or the provider of ERP or accounting software, it is now very important to ensure that your hardware and software can process the new financial documents smoothly.

Example of a Swiss QR Code invoice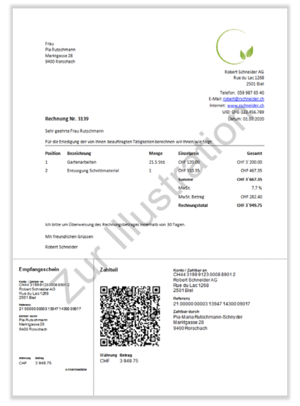 The QR code contains a total of 42 fields, including information on the dimensions
Creditor
Debtor
Invoice amount and currency
Payment reference
as well as additional information (e.g. unstructured messages or reference data)
What you need to consider as a debtor
The most important aspects to be emphasized in this context for you as a person making payments can be summarized as follows:
As of June 30, your financial software and hardware must be able to scan QR codes
The new Swiss QR invoice contains a machine-readable barcode with all relevant payment information to trigger the supplier payment
Manual entry of invoice information will no longer be necessary
You can fully automate your accounts payable (AP invoice) processes
Why you should use modern OCR software for processing?
If you are looking for scanning solutions that can handle QR codes, you will quickly find them after a quick Google search. But beware: Most of these solutions cannot simply import the extracted data into any business software such as your ERP automatically. This is different when you work with Parashift. Thanks to our approach to make document extraction as easy as possible to consume, you have the possibility to connect QR scanning functionalities to your leading financial system via REST API. Thus you will have a powerful setup within a very short period of time, with which you can extract payment information from receipts at lightning speed and process it automatically.
By the way, our document extraction engine supports both the automatic data extraction of Swiss QR invoices and other international invoice formats that are not subject to this kind of QR invoice standard. As you can imagine, this offers an important added value, especially if your company works with international suppliers and thus requires a high degree of flexibility in terms of the ability to process all these invoice documents.
In other words, by implementing Parashift OCR software you can save yourself any manual document entry work for your accounting department, which has a significant effect on your capacity and costs. These saved resources are invested in other parts of your company in a much more targeted way. This is at least the experience that our customers share with us.
How OCR extracts data from the Swiss QR Code and other invoice formats
OCR technology, which can automate optical character recognition, is a technology that can recognize and categorize the content of any invoice or any other document and delivers you the relevant information in a structured format (in our case JSON format).
The «magic» of the Parashift OCR solution is therefore the conversion of unstructured documents into machine-readable text and the interpretation and structuring of the text into relevant information such as the name and address of both the supplier and invoice recipient, invoice number, delivery date, all kinds of item data, invoice amounts, VAT rates and amounts and other relevant metadata. The extracted information is then exported as a JSON file to your ERP software. If you do not want to build an interface, you can of course import the data via CSV. No problem. In the case of the Swiss QR invoice, the additional information of the barcode also gives you the additional 42 fields that are encoded in the QR code.
The fields we extract
The most important fields in both regular and QR calculations that Parashift returns are
Supplier Information
Sales tax/value added tax identification number
Recipient information (or tenant)
Document date
Document number
Delivery date
Invoice or order number (PO)
Reference number
Payment amounts (total amounts, value added tax, currency in each case including partial amounts)
Terms of payment (one or more)
Payment deadline
Payment method
Payment information (IBAN, BIC and account number)
Line item positions
As well as each individual field on request
Automated processing of QR invoices
Discussions with our Swiss customers have clearly shown that there is a need for a uniform OCR solution that supports both Swiss QR invoices and complementary international invoice formats. We at Parashift have implemented this accordingly and can therefore offer our partners and customers a comprehensive solution for invoice extraction (but also other document types) that can automatically process a very wide variety of formats within seconds with a minimum error rate. This enables you to automate processes in your accounts payable department and thus leads to leaner business processes that save you manual work and overhead costs.

Would you like to know how we can support you or how the Parashift platform can be integrated into your accounts payable processes? We recommend that you to arrange a free online demo with one of our product specialists. Alternatively, you can send us an e-mail with your questions or simply call us directly on +41 61 508 77 77.