"All roads lead to Rome" – this could also be said of companies on their mission for more sustainability and carbon reduction. While implementing sustainable methods may require a combination of new strategies with different technologies, intelligent automation has emerged as one of the key factors: Nowhere is the cost-benefit ratio as optimal. Intelligent automation also includes document processing, which is fundamental to sustainable business processes.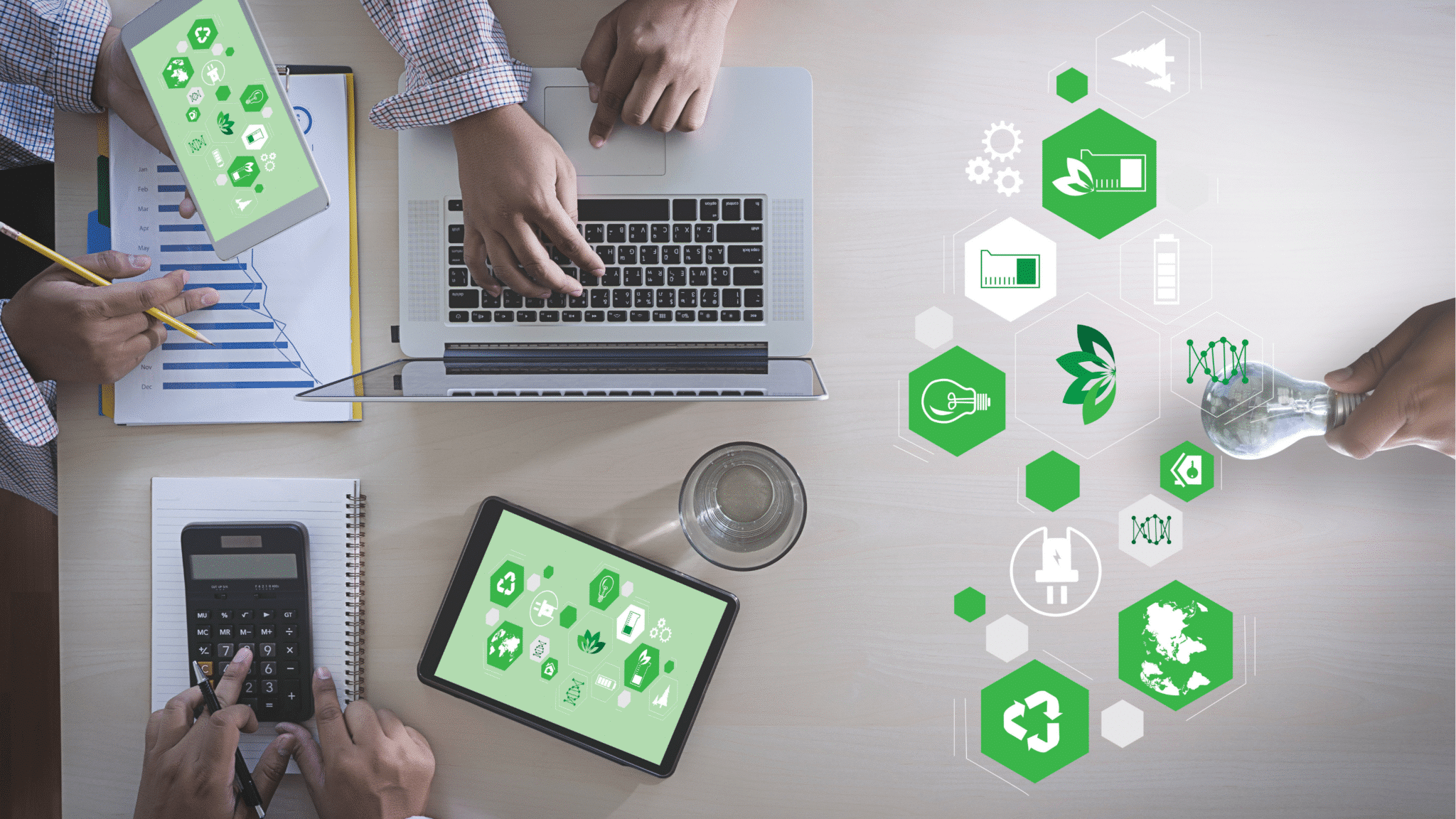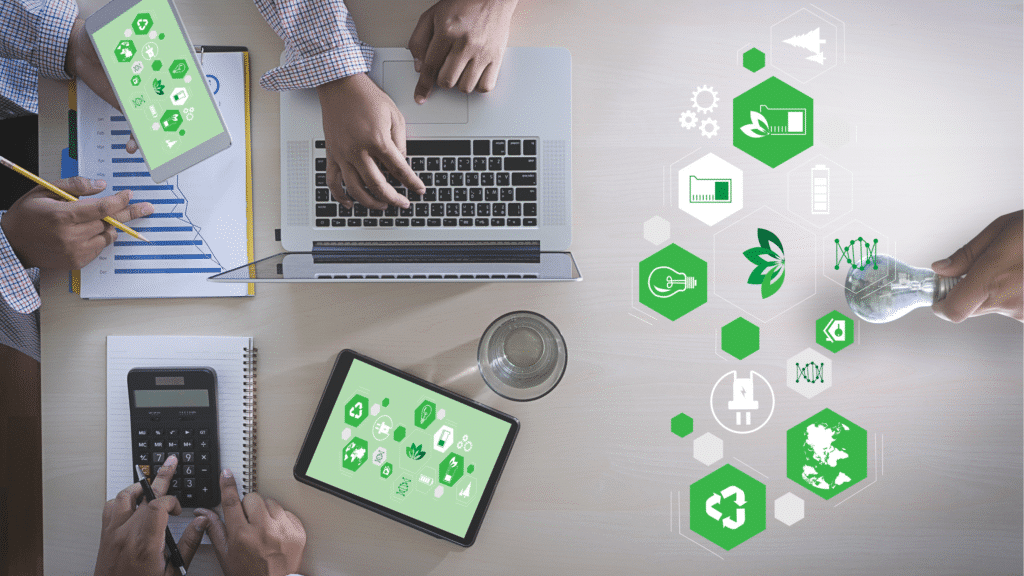 Continued environmental impact due to manual document processing
Hardly anyone claims that the manual processing of business documents is the main cause of environmental pollution. Rather, the deforestation of huge areas mainly in the Amazon region, in Scandinavia and in Russia for paper production and the resulting leakage of large quantities of CO2 are the main contributors. However, the paper manufacturers themselves (even though there is now a positive trend towards greater sustainability) must also continue to take at least some responsibility for air, water and soil pollution.
In addition to the considerable energy consumption for paper production, however, paper consumption in everyday business and the manual processing of paper documents must not be forgotten. Thus, it is both paper consumption and document management that not only pollute the environment, but at the same time make primary business processes inefficient and expensive. This approach does not speak to sustainability in these fundamental processes. The problem, however, is that the paperless enterprise that has been predicted for years is not yet a reality even today (with some exceptions). And whether that will change in the foreseeable future is debatable.
Fact is, companies today have to process their business-relevant documents to a large extent digitally on the one hand, but still in paper format on the other. This process is therefore neither sustainable nor environmentally friendly for companies, and certainly not cost-effective:
Paper documents – Documents are received physically by mail and must be digitized. This is done by scanning the documents or by manually typing the data into an ERP system. The documents are then mostly archived digitally and physically.
Digital documents – Documents are received through various digital channels. For signatures, to accompany goods, or for completion, digital documents are often still printed – before they end up back in the shredder.
Printers – Printers and photocopiers require toner and maintenance, which can have a significant impact on the environment and costs, depending on the size of the business.
As briefly mentioned at the beginning, intelligent document capture and processing automation initiatives can demonstrate an excellent cost-benefit ratio. And with Intelligent Document Processing (IDP), you also get the best solution for both worlds: a powerful system that lets you automatically capture and process both your paper-based and your digital documents conveniently, efficiently and sustainably.
Document processing with AI as a catalyst for change
Thanks to intelligent automation solutions such as Intelligent Document Processing (IDP), companies can now use efficient systems to minimize environmental impact while realizing their sustainability goals (or at least part of them). IDP combines advanced artificial intelligence (AI) technologies into one system to generate positive, powerful impacts. And the impact of IDP on businesses and with respect to their sustainability initiatives is indeed multifaceted:
Minimize paper consumption, dissolve archives – IDP automates the capture, classification, extraction, processing and secure storage of business-relevant data from paper documents. This allows physical archives to be digitized with IDP and gradually dissolved.
Print and copy, goodbye – With IDP, workflows can be automated so that employees have access to relevant data anytime, anywhere. No more unnecessary printing or copying.
Increased efficiency – With IDP, document-based processes are simplified and accelerated. At the same time, manual data entry and processing is reduced to an absolute minimum. This makes for more sustainable processes.
Reduced carbon footprint – With significantly less paper and the automation of central business processes, IDP from the cloud helps to reduce the carbon footprint.
Parashift's unique solution approach is highly interesting for us as a long-standing and innovative solution integrator in the area of digitization of document-related processes. The technology ideally complements our existing solution portfolio. Thanks to Parashift, our customers benefit from customized and sustainable solutions and services. – Dominic Wullschleger, Head of Sales & Marketing, Arcplace
Sustainable efficiency with the Parashift IDP platform
With the wide range of document processing requirements, it quickly becomes clear that an average IDP solution will not be good enough. Only with a next-generation Intelligent Document Processing solution like Parashift's will you secure a comprehensive and powerful platform that is truly efficient and will make a lasting difference to your business. The following factors ensure sustainable processes:
Easy integration – The Parashift IDP solution is a fully cloud-native platform. This greatly simplifies integration and scaling, and thus also reduces resource requirements to a minimum.
Enhance existing applications – There is no need to replace business applications that are already in place and working well. Rather, Parashift's Next-Gen IDP is simply added as the new AI document processor. This is pure gold in terms of sustainability.
Hundreds of out-of-the-box use cases – The Parashift IDP platform comes with hundreds of use cases of any industry, ready to go. Plus, thanks to the no-code approach, additional use cases can be easily configured in minutes, right on the platform, if needed. This way, you can start with one use case, for example, and add more step by step.
Continuous learning and improvement – Thanks to revolutionary Document Swarm Learning, the IDP solution continuously learns from all documents of all customers. Document Swarm Learning maximizes learning in a fully GDPR compliant manner.
Transparent costs – With the secure SaaS cloud platform, you don't have to deal with updates or maintain software or hardware. And thanks to clear pricing, you always enjoy full transparency over your costs.
Parashift combines various new technologies with previously unused document extraction concepts to offer companies completely new possibilities. – Jürg Porro, Management Team, Inacta
Use Parashift's AI-based IDP solution to process all your business documents. It's a unique way to transform your document processing, bringing efficiency to your operations and sustainability to your business.
Have questions? Contact one of our experts – we look forward to speaking with you. Or try the Parashift Intelligent Document Processing solution for yourself right now.