The companies Froschhäuser IT and Sartissohn have jointly developed an OCR software module for the docuvita document management system (DMS). The module is based on the machine learning technologies from Parashift, which offer end customers a solution for automated classification and data extraction of incoming invoices without any costly setup, configuration and training projects. This not only opens up opportunities for productivity gains and cost savings but also for the development of new use cases and process designs.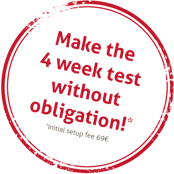 docuvita is a modern and powerful DMS that allows customers to easily merge data from a wide variety of sources and manage it in a central location. The features are designed to optimize teamwork and to facilitate more goal-oriented and efficient work with documents.
The setup of the web-based DMS system is modular and allows for individual scaling. This means that new customers can start with a minimal standard system for accounting and adapt the setup to changing requirements at any time. Thanks to these configuration options, docuvita has the potential to become a tailor-made business solution for modern document management.
Here is a short and not conclusive overview of the functionalities:

The system offers a digital file which can be linked to the data-bearing applications (merchandise management, ERP, PPS or CRM systems) via the docuvita.AutoProfiler and docuvita.SystemLink. This enables that
new files are automatically created, indexed and continuously maintained and
outgoing documents can be continuously archived fully automatically.
In addition to archiving, the system also offers various intuitive and integrable search functions. These range from simple and fast search queries to more complex, storable recurring queries. This means that efficient work is still possible even with more extensive and complex document collections.
Thanks to docuvita, business processes can be mapped and orchestrated in workflows consisting of individual, interlinked tasks. Examples of such workflows are the configuration of invoice approvals, authorizations, checks or even acknowledgements. These processes oftentimes offer great potential for automation and thus, make the DMS an active and reliable supporter of daily workflows.
With the new AI docuvita.ocr module, end customers now also benefit from a document extraction platform that is specifically designed to also address the last mile in the extraction problem and does not give up at 80% extraction accuracy due to exponentially growing investment requirements. The module itself can be seamlessly integrated into docuvita. Since the underlying OCR software is not installed locally at different companies, but runs in the cloud and is continuously fed with training data from numerous other independent end customers, the system learns over time and thus gains increasing robustness. Therefore the main advantage is that end customers do not need to invest in extraction optimization projects and can continuously benefit from improvements in extraction quality and reliability, even without active contributions.
In addition, end customers have the option of outsourcing the processing, including follow-up validation of the extraction results, at a low cost. This frees tied up resources for these per se non-value-adding activities and allows them to be used elsewhere for other purposes. At the same time, it is ensured that downstream processes and systems are still supplied with the correct metadata. If an end customer does not want to validate the data and instead wants to take over the validation himself, the module offers a user interface with modern functionalities for efficient validation and correction.


At Parashift, we are very pleased to see what our partners are developing with the technology we provide. As a technology company working on a platform for universal document extraction, which by definition means that we only work on the base layer and thus enable our partners to generate the greatest possible economic value, we are committed to developing more powerful functionalities for our solution partners in the coming months and beyond to strengthen their core competencies and enable ever more value-adding developments.
Are you interested in a non-binding four-week test of the AI docuvita.ocr module? The companies Froschhäuser IT and Sartissohn will be happy to advise you.